Gluten Free Food List
When you first check a gluten free food list, it can seem as though ALL your favorite foods are suddenly off the menu!  However, there are actually plenty of tasty, wholesome foods that you can still enjoy!
The list, below, includes the basic foodstuffs that you will want to include in your gluten free pantry, along with some that may sound unfamiliar. Don't rule them out because you have not used them before, I will teach you some amazing things that you can do with ingredients such as quinoa and dried beans.  
Even if you cooked from scratch before your diagnosis, the methods used for preparing some of the items on the gluten free food list may surprise you!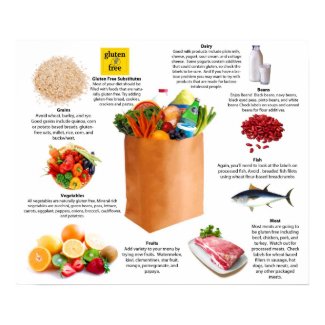 Gluten Free Grocery List Poster
by
glutenfreedomfighter
Browse more Gluten Posters at
Zazzle
Gluten Free Food List - Everyday foods
Click on the underlined foods in the list to learn more.

Beans, dried

Beef (fresh)

Bicarbonate of Soda

Black treacle (molasses)

Carob powder


Cider vinegar

Cheese

Chicken (fresh)

Chick peas

Coconut

Corn (popcorn, tacos, tortillas)

Cream of tartar

Duck (fresh)

Eggs

Fish

Flax seeds

Fruit (fresh and tinned)

Fruit juice


Herbs

Honey

Jam (jelly)

Lamb

Lentils

Maple Syrup

Marmalade

Marmite (UK only)

Milk (if not lactose intolerant)

Millet

Nuts

Oils

Peanut Butter

Peppercorns

Polenta

Pork

Potatoes

Sago

Shellfish

Sorghum

Soups (homemade)

Soy sauce (Tamari only)

Sugar

Tapioca

Tea

Turkey

Venison

Wine vinegar

Xanthum Gum

Yeast (fresh)

Yogurts
* All vegetables and fruit are gluten free, unless you add something to them, such as a sauce or coating. For more information see my detailed gluten free vegetables page, where I classify them into groups.

Gluten Free Shopping Guide
If you are in the USA, one of the first things I recommend is to get hold of the guide book below...
2014/2015 Gluten-Free Grocery Shopping Guide
... you will find it indispensable when doing your grocery shopping. The other books shown below are also useful additions to your gluten free library. For more recommendations check out my gluten free cookbooks page.
Related Pages
---
---
Home Page

-

Gluten free food list
---
---